Close Menu
Enter your search
Results
Trending Searches
Recent Searches
World Cup Style:
1986 - 2018
Throughout the years, FIFA's flagship event has provided us with unforgettable moments on and off the pitch. From colourful fans in the stands to eccentric team kits, the surrounding elements of football's elite festival often fascinate as much as the game itself. To celebrate this, we've rekindled the memorable styles that were relevant during the most iconic tournaments in World Cup history.
Russia 2018
After a smooth Confederations Cup dress-rehearsal, The Russians are ready to host one of the most anticipated competitions in history. With World Cup debuts for Panama and Iceland, and familiar superstars Messi, Ronaldo and Neymar ready to stake their claim, Russia 2018 looks set to be one for the history books.
Style at the tournament will be heavily influenced by Gosha Rubchinskiy and the current wave of Russian skate/streetwear, with reinterpretations of classic European 'terrace' fashion, mixed in with big logos, wide-fitting trousers and pops of neon colour.
Shop Collection
South Korea 2002
Roy Keane's run-in with Mick McCarthy, David Beckham's broken metatarsal and joint-host South Korea's controversial march to the semi-finals all contributed to a classic month of international football in the Far-East. South American brilliance once again destroyed English dreams, as Ronaldinho's lob left David Seaman and his ponytail for dead.
Style during this time paid close attention to contrasting tones, textures and prints. With streetwear influencers Stussy leading the way, brands were producing a plethora of graphic-heavy designs in oversized, boxy fits.
Shop Collection
USA 1994
Marking a golden age in mid-90s football, USA '94 is fondly remembered for Maradona's last appearance for Argentina, Diana Ross' calamitous penalty, Carlos Valderrama's tremendous hair and Republic of Ireland manager Jack Charlton's numerous touchline spats. In a tense finale, Brazil's victory over Italy meant that they had surpassed their opponents as the tournament's most successful nation.
Fan style at the tournament was typical of the time: oversized and baggy, with white apparel offset by strong logos and vibrant patterns. On foot, tennis, basketball and running silhouettes from brands such as Nike, Diadora and adidas Originals were prominent in the stands.
Shop Collection
Mexico 1986
Following economic struggles with original hosts Colombia, Mexico stepped in to become the first nation to hold the tournament twice. Mexico's 90,000-capacity Azteca stadium provided a fitting platform for The World Cup of Diego, as Maradona broke English hearts with his infamous 'Hand of God' and incredible 'Goal of The Century'.
With adidas Originals reigning the terraces, European sportswear was prevalent during the decade. Fan styles were fitted, with tighter cut on tees, while Puma, Reebok and adidas supplied the masses with short shorts and suede trainers.
Shop Collection
size? Stores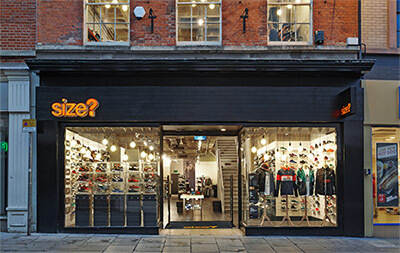 Find your nearest size? store
See All Stores