Close Menu
Enter your search
Results
Trending Searches
Recent Searches
1. Order
Order now and pay up to 30 days later with no interest or charges.
2. Try
Try on and then decide what you want to keep and pay for.
3. Pay
Select 'Pay later with Klarna' at the checkout with one click and no payment details needed. Your order will be dispatched and you will receive an email letting you know how to pay.
Never miss a drop again, select Klarna at checkout and pay after delivery.
Klarna lets you try before you buy, and you only pay for what you keep.
Pay 30 days after you order has been shipped
No interest, no fees - just pay within 30 days of receiving your order.
Are you over 18 years old?
Do you have a UK bank account and good credit standing?
Do you have a UK residential address?
Yes to all the above? Lovely. Let's get shopping
Questions? For all those concerning the product, delivery and returns, please contact size?. For all those concerning payment or regarding an expected refund, please contact Klarna. For more details, see the FAQ section below.
size? acts as an introducer and not a lender of unregulated credit products provided by Klarna Bank AB (publ). Credit is only available to permanent UK residents aged 18+, subject to status, T&Cs apply. Please note Pay in 30 days and Pay in 3 instalments is not regulated by the FCA. Borrowing beyond your means could seriously affect your financial status, ensure you can afford to make your repayments on time by the due date.
Who is Klarna?
Klarna is a Swedish payment service provider that takes end-to-end responsibility for your payment. Klarna is the provider of smooth payments to more than 70,000 online stores. Over 60 million consumers worldwide have trusted Klarna to securely handle their payments.
What are my payment options with Klarna?
If you're choosing to pay later with Klarna, you can pay for your goods via credit card or debit card.
What do I need to provide when I make a purchase?
If you want to pay using Klarna you need to provide your mobile phone number and email address. All statements will be sent via email. It's important that you provide us the correct details, or you won't receive the payment information, and consequently, may be liable for late payment fees.
I've been redirected to Klarna's Site - is that right?
Yes. if you have chosen to Pay Later, Klarna will send you an email with further details on how to pay. Your email will contain a link to Klarna's payment site where you can settle your payment to Klarna with your card or with a bank transfer.
What happens if I make a return?
If you have made a partial return, An updated statement will be sent to you once size? has received It. With a full return, your statement will be closed once received.
What if I don't pay on time?
If you don't pay within the 30 days, you may be subject to charges. To ensure you pay on time, Klarna will send three gentle reminders. If, after 14 days from your third reminder, you have still not paid the balance, your details will be passed to A debt collection agency, which may affect your credit rating.
My application was not accepted by Klarna.
Klarna is a third-party payment service, therefore, we have no control over the decisions made by the service. If you are not accepted by Klarna you can contact them directly as, unfortunately, we will be unable to help you. Visit their Customer Service for Live Chat or call 020 300 50833.
How do I contact Klarna?
Visit Customer Service for Live Chat or call 020 300 50833, Monday – Saturday, 9.00 AM - 6.00 PM, closed Sunday.
Does Klarna impact my credit score?
Klarna may run a soft credit search that does not affect a customers credit score and is only visible on your credit file by you and Klarna.
For more information visit Klarna T&Cs
size? Stores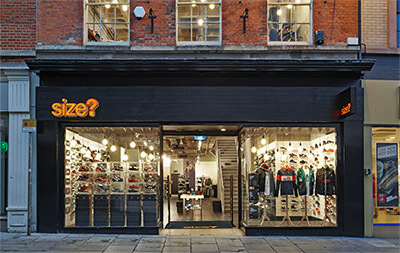 Find your nearest size? store
See All Stores
Deliver To
UNITED KINGDOM