Close Menu
Enter your search
Results
Trending Searches
Recent Searches
Different International delivery options are available dependent on country;
International Standard - from £6.99
PLEASE NOTE: Orders may be subject to customs duty.
Can I return my order?
Not a problem, you can send any unwanted items back to us for FREE within 28 days for a full refund for purchases made via the size? website or app (excluding size?launches app) or within 14 days for purchases made via the size?launches app. Please read our terms and conditions for more details at: https://www.size.co.uk/customer-service/terms/. Register your return on our portal here. No need for a printer!
If you're lucky enough to live near a size? store, just take your despatch note and the goods you want to return, and the store team will be happy to assist you.
If you need to return an item purchased instore and you are unable to reach one of our stores (https://www.size.co.uk/store-locator/) please message our team at customer.service@size.co.uk. Please attach images of the items you want to return along with an image of the receipt showing the amount paid including the items purchased we can then advise you the next steps.
I can't find my free returns label?
You can simply download and print a new one here. No printer? No problem! You can simply choose a courier who will print it for you.
size? Stores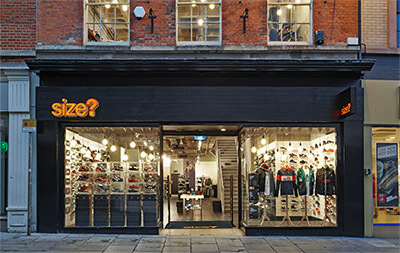 Find your nearest size? store
See All Stores
Deliver To
UNITED KINGDOM