Close Menu
Enter your search
Results
Trending Searches
Recent Searches
Become an Affiliate
About Us
Established in 2000, size? is the renowned global supplier of footwear and streetwear from the world's best brands. With stores throughout the UK and Europe, size? offers the latest releases and exclusive product from the likes of Nike, adidas Originals, FILA, Vans, Converse, Jordan, New Balance, The North Face, Stussy and many more.
Why link to size?
Affiliates will benefit from having a high profile, multi-channel high street brand with a reputation for stocking the most desirable, authentic and exclusive footwear and clothing. The website and app are constantly updated with bespoke marketing campaigns, various media content and competitions thus attracting regular visits to all sites associated with them.
A regularly updated product feed ensures that affiliate's sites can continually display the very latest in-stock products.
Generic banner creative is available at all times and is regularly updated, we also create additional, targeted banners for new product launches, seasonal campaigns, special offers and promotions.
Lastly, because we use a 30-day cookie policy, you'll still earn commission if the customer you originally referred returns to us to buy within a 30 day period
Commission
Competitive and flexible commission rates for full price and sale items, as well as special week-to-week heightened rates for certain brands.
Discount code sites and any sales where a voucher code is used will be rewarded competitive and flexible commission rates.
size? Stores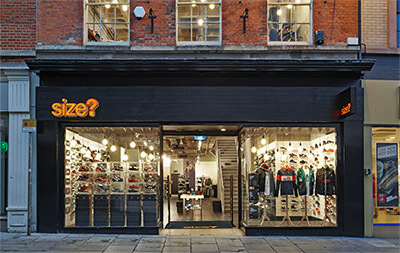 Find your nearest size? store
See All Stores
Deliver To
UNITED KINGDOM