Enter your search
Results
Trending Searches
Recent Searches
Returns
Can I Return My Order?
Our returns policy has changed. Please see our terms and conditions for further details
If you have a faulty/damaged item, please contact Customer Service to see how we can help you
For any purchases made after the 27th January 2023, the new returns policy below will apply.
Return to store for FREE- Visit any size? store for a faster refund!
Online returns
You can send any unwanted items back to us from £2 within 28 days for a refund with purchases made in the UK via the size? website or app and within 14 days for purchases made via the size?launches app.
Please read our Terms & Conditions (https://www.size.co.uk/customer-service/terms/) for more details. Register your return on our Portal (https://returns.size.co.uk/) - no need for a printer!
If you need to return an item purchased in-store and you are unable to reach one of our stores (https://stores.size.co.uk/search) please message our team at customer.service@size.co.uk. Please attach images of the items you want to return along with an image of the receipt showing the amount paid, including the items purchased. We can then advise you on the next steps.
For international returns please see more info below.
I can't find my returns label?
You can simply download and print a new one here (https://returns.size.co.uk/). No printer? No problem! You can simply choose a courier who will print it for you.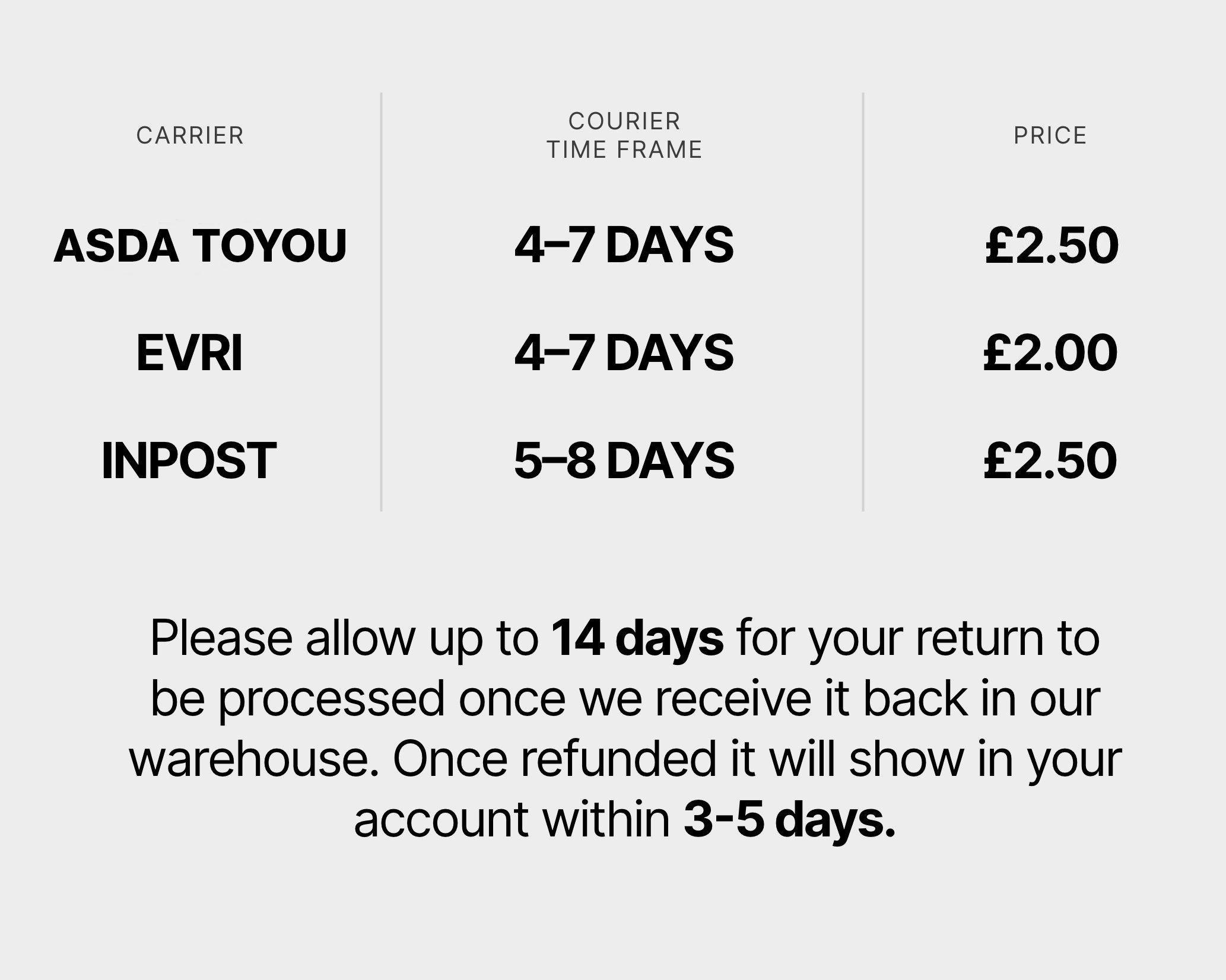 EVRi Return - £2
Simply follow the link to the returns portal (https://returns.size.co.uk) to have your parcel collected from the comfort of your own home, or drop off at your nearest available ParcelShop.
To drop off at ParcelShop you can either print your returns label at home, or generate a QR code and print a label in store.
Just follow these simple steps:
1. Re-pack your items and include the returns form provided
2. Find your nearest ParcelShop drop off point by clicking here
3. Select your preferred returns options (print your label at home, or generate a QR code to print your label in store).
4. Once you've processed your return, you're ready to drop your parcel at your nearest ParcelShop
5. Keep hold of your proof of postage. We'll email you when we receive the returned item/s
RETURN IN SECONDS WITH 24/7 INPOST LOCKERS - £2.50
No printing or label required. Just scan.Drop.Done
InPost Lockers are in handy locations, like supermarkets(Inc. Tesco, Morrisons and Lidl) and train stations. Find your local locker here (https://inpost.co.uk/lockers/)
How it works:
2. Scan the code on your phone at the locker
3. Put your parcel inside and shut the door
When your return is collected from the locker, a label will be applie for you by the courier.
PLEASE NOTE: all items from the same order should be returned in one parcel.
Simple Returns At Asda - £2.50
No printer required when returning your order at Asda.
Visit our returns portal to register your return to get a QR code and print a label in store. Simple!
You can choose from over 600 convenient Asda stores across the UK.
With easy parking and extended opening hours you can return at a time that suits you.
Non UK customer?
You're welcome to return your items but we can only send returns for refunds to UK and Ireland. Unfortunately we do not offer free returns. International Click and Collect orders can not be returned in store and need to be posted back to the address provided.
For those of you in Ireland or International, please note that we cannot accept returns to the size? stores in Ireland or any of our International stores.