Close Menu
Enter your search
Results
Trending Searches
Recent Searches
Offers Terms & Conditions
Offer Terms and Conditions
Our Black Friday Preview starts at 11:59am on Monday 9 November 2020. We will be offering:
1. Up to 50% off on selected products (the "Offer"). The discount will be automatically applied to the product and will show as a was / now price.
2. Offer cannot be used in conjunction with any other offer or discount. The Offer is not valid on gift cards.
3. Offer available online and in-store subject to stock availability.
4. Offer cannot be exchanged for cash and is non-transferable. Returned items will be refunded at the discounted price paid. This does not affect your statutory rights.
5. We reserve the right to: (i) cancel this Offer at any time; (ii) cancel or refuse any individual's benefit from it; and (iii) amend these terms and conditions.
6. Please note the Offer will be available beyond the Black Friday Preview subject to availability.
7. The promoter of this Offer is JD Sports Fashion PLC (company no. 01888425) (t/a size?).
size? Stores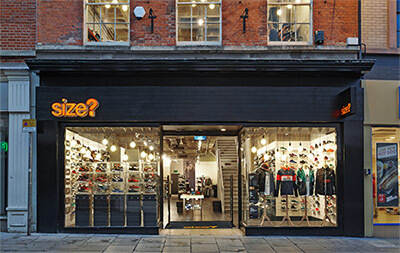 Find your nearest size? store
See All Stores