Close Menu
Enter your search
Results
Trending Searches
Recent Searches
Sale Terms & Conditions
Sale Terms and Conditions
1. Up to 50% off on selected products (the "Offer"). The discount will be automatically applied to the product and will show as a was / now price.
2. Offer cannot be used in conjunction with any other offer or discount. The Offer is not valid on gift cards.
3. Offer available online and in-store subject to stock availability.
4. Offer cannot be exchanged for cash and is non-transferable. Returned items will be refunded at the discounted price paid. This does not affect your statutory rights.
5. We reserve the right to: (i) cancel this Offer at any time; (ii) cancel or refuse any individual's benefit from it; and (iii) amend these terms and conditions.
6. The promoter of this Offer is JD Sports Fashion PLC (company no. 01888425) (t/a size?).
size? Stores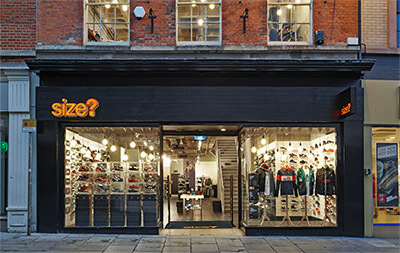 Find your nearest size? store
See All Stores
Deliver To
UNITED KINGDOM