Close Menu
Enter your search
Results
Trending Searches
Recent Searches
Competition Terms & Conditions
Delivery Terms and Conditions
size?
Company number: 1888425
size? Air Max 95 Competition
By taking part in this promotion you accept and agree to these terms and conditions. If you do not agree with any of these terms and conditions then you should not take part in the promotion. It is your responsibility to ensure that you review the terms and conditions before entering the promotion. We, JD Sports Fashion plc ("size?"), recommend that you print and store or save a copy of these terms and conditions for future reference during the promotion. size? is the promoter of this promotion.
1. What can you win?
There will be 2 winners who will each win one pair of size? exclusive AM95 "20 for 20" (the "Prize"). The Prize is subject to availability (including availability of sizes, styles and colours). The Prize may not be exchanged for a cash value, nor is it transferable. The Prize is subject to winner confirmation (i.e. size? has been able to contact winners and has been able to confirm eligibility). size? has the right to change, alter or withdraw the promotion or Prize at any time due to any change in any applicable law or any events outside the control of size?. size? shall not be responsible for any delay, cancellation or rescheduling of the Prize. If any part of the Prize is not claimed (for whatever reason), size? is under no obligation to supply an alternative prize.
2. Who can enter?
Entrants must be aged 18 years or over and a resident of England, Scotland or Wales. size? reserves the right to ask the winners to provide proof of age. Employees (and their immediate family) of the size? group (http://www.jdplc.com/our-group/sports-fashion.aspx), or anyone else professionally connected with this promotion are not eligible to enter the promotion. size? reserves the right (at its sole discretion) to decide if the eligibility criteria are met. If the eligibility criteria are not met, the entry will be invalid.
3. How to enter
Entrants can enter the promotion by sharing a picture or video of a pair of their own Nike air max's on Instagram using the hashtag #sizeairmax. Internet service providers' fees may apply when accessing the internet. No purchase is necessary to enter the promotion. By submitting any films or photographs as part of the promotion entrants agree that size? (and its affiliates) may use any films or photographs uploaded to market and promote the promotion and for general marketing purposes both during the promotion and after the promotion has ended. Entrants will retain ownership of their copyright in such submissions.] Participation is limited to one entry per person. If more than one such entry is received, only the first entry will be accepted. No responsibility is taken for entries that are lost, delayed, misdirected or incomplete or cannot be delivered or entered for any technical or other reason.
4. Closing Times
25/03/20 - 11.59pm GMT Any entries received after this date and time will not be valid.
5. How are winners selected?
Two winners will be chosen randomly by staff at size? HQ, one per week taken from submissions over the selected period of time (week one 12/03 – 18/03. Week two 18/03 – 25/03) The decision of size? is final and binding on all entrants. No correspondence will be entered into regarding the selection of the winners (other than with the winners themselves). The winners will be notified via Instagram direct message. In the event that the winner does not communicate his/her acceptance of the Prize within 48 hours despite size?' reasonable efforts to contact them, size? reserves the right to pick another winner (in accordance with the procedure set out in this section) and the original winner will be considered to have waived his/her right to the Prize. In the event a winner does not collect the Prize within 30 days size? reserves the right to pick another winner (in accordance with the procedure set out in this section) and the original winner will waive his/her rights to the Prize.
6. Winners' Responsibilities
It is the winners' responsibility to: provide accurate contact details; (iv) provide valid proof of age, which is required to enter the promotion; (v) adhere to local laws in the UK (vi) comply with any rules, instructions, requirements, terms and conditions or regulations of the event organiser. size? will not be liable to the winners or any other persons where they fail to comply with such responsibilities and any such failure may result in forfeiture of the Prize. JD Sports reserves the right to withdraw the Prize (or any part of it) if a winner breaches any of the terms in these terms and conditions or if they are found to have acted in a dishonest or fraudulent manner.
If you wish to contact JD Sports in relation to the promotion, please use the following address: size? HQ romotion, JD Sports Fashion plc, Edinburgh House, Hollinsbrook Way, Pilsworth, Bury, Lancashire, BL9 8RR, United Kingdom.
size? Stores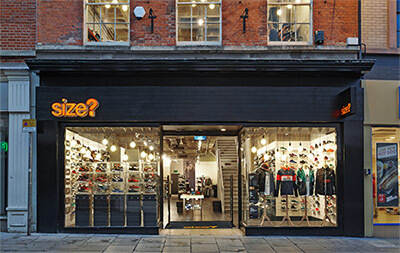 Find your nearest size? store
See All Stores