Close Menu
Enter your search
Results
Trending Searches
Recent Searches
'X' marks the journey
---
It began with the 'X' and it certainly will not end there. This is the story of XBYO.
Simplicity
From the subtle branding to the use of colour.
The beginning
In most cases, a letter 'X' never goes beyond signifying the end of something, the destination. But in others, 'X' marks the journey itself.
The adidas Italia began as a running shoe. It was introduced in 1959, and would later become the most popular shoe at the 1960 Olympics in Rome. It was known for its signature jagged green tensile tape that wrapped around the side of the shoe and crisscrossed over the heel.
This was the beginning of the 'X.'
"With XBYO what we really wanted to do was to celebrate our past but we wanted to put it in a new context"
Mr Nic Galway
For its debut collection, adidas Originals XBYO draws upon decades of experience to produce a series of premium apparel pieces that goes back to the basics. A trifecta of collaborative mastery realises this vision: design put forth by adidas Originals, fabric knitted by Yamayo Textile and patterns cut by Satomi Nakamura.
Thus the iconic 'X,' adorning each piece produced by this connection, has evolved to represent the cross section of seemingly disparate elements, uniting East and West, sport and everyday life, form and function.
It began with the 'X' and it certainly will not end there. This is the story of XBYO.
The maker
Cuts for the collection were devised by renowned pattern maker Satomi Nakamura, bringing a sharpened and refined cut to classic sportswear designs.
Nakamura humbly considers her role as being a "realizer of dreams," listening attentively to the needs of the client. She adamantly resists fleeting external influences and applies intuition and 30 years of experience as a patternmaker to solve them.
"I wanted to introduce the idea of a 3D look, a 3D approach to clothing."
Mrs Satomi Nakamura
Ms. Nakamura took several trips to the adidas headquarters in Herzogenaurach to collaborate with the team and help define XBYO's initial collection. The goal was to create a pleasing and flattering silhouette that still enjoyed a generous range of motion.
Understated details such as the preference of darts over the seams result in an instantly-recognizable but no less minimalist reinterpretation of classic silhouettes. Intricate cutting likewise means fewer separate pieces and fewer seams against the skin.
Tailored fit
Special ergonomic fit, letting the garments adjust to movement and body shape.
Quality
Expert craftsmanship and high-quality material choice.
The material
Not long after the debut of the Italia running shoe at the Rome Olympics in 1960, sportswear began to incorporate synthetic fibers such as nylon and polyester, and mills that had first worked with cotton such as Yamayo were ready for such innovation.
From there, the relationship between Yamayo and adidas would only deepen. As adidas grew, so did Yamayo; such that Yamashita-san would present his newest developments to adidas.
"We constantly challenge ourselves to make the impossible possible."
Mr Ikuo Yamashita
Dart construction
Use of darts instead of seams to develop a truly unique garment shape.
size? Stores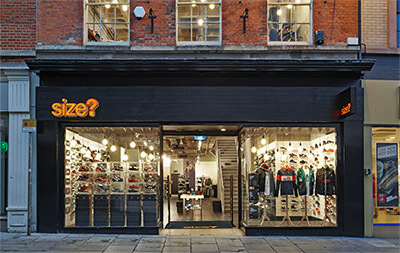 Find your nearest size? store
See All Stores
Deliver To
UNITED KINGDOM