Men's

Footwear

Clothing

Accessories

Women's

Footwear

Clothing

Accessories
Enter your search
Results
Trending Searches
Recent Searches
Contact Us
Help & Information
size.co.uk Customer Service
Do you have a query about an order, return or delivery? Check out our FAQ's and Customer Service Pages. We reckon we've covered just about everything you need to know.
If you prefer to speak to someone, you can email us at onlinehelp@size.co.uk. We try to respond to all emails within 5 hours.
Or you can also contact us on Twitter via @sizehelpteam
size? Stores Customer Service
If you would like to speak to our Customer Service team for help, to make a stock inquiry or to talk about your experience in one of our stores you can email us at customer.service@size.co.uk.
size? Head Office Address
If you want to write to size? you can do so at the below address;

size?
Hollinsbrook Way
Pilsworth, Bury
Gtr. Manchester
BL9 8RR
Live Chat
size? Stores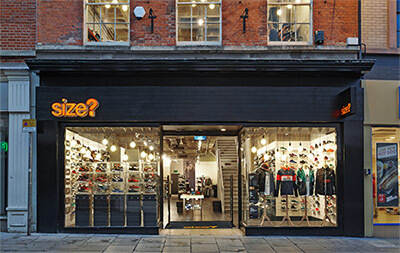 Find your nearest size? store
See All Stores